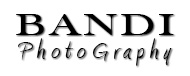 BandiPhotoGraphy

710 - 52 Avenue SW

Calgary, Alberta

T2V 0B5

info@BandiPhotoGraphy.com

YOU ARE BEAUTIFUL:

MY JOB IS TO CAPTURE

EVERY TREASURED MOMENT

BANDI - CUSTOM WEDDING PHOTOGRAPHER - CALGARY

WHAT PEOPLE SAY

This is your chance to brag about me... I insist!

"Bandi - You are the greatest, funniest photographer I've ever met!!  Thank you for making our day so very extra special.  My family and friends can't stop raving about you..."

"If you want clear, beautiful photos that capture your special day just how you remember it, from a friendly photographer who will help you feel at ease, then you can't go wrong with Bandi!  We are extremely happy with how our photos turned out, and have received numerous compliments on the wedding photos on display in our home.  And Bandi is great with young children – he has some good tricks up his sleeve to keep them smiling.  We heartily recommend him!"

"Bandi I'll never forget this weekend, amazing job.  I swear, every time we get together and celebrate with you, we have such an EPIC TIME that we forget to take pictures - but you always have our backs on that one!!  Thanks"

"Bandi, you have captured such a wonderful day: fabulously beautiful location photos, stunning Bride & Groom pics... and you were able to do the impossible: you captured radiant shots of my Mom & Dad!  Thanks again!"





WHO I AM...

I wish to share something about me

I am motivated

and inspired

to find joy

in every

precious

moment

In a deeply personal way, I feel an image is a poem about time; image defeat time.  Images can keep alive the memory of your wedding day, hold that moment in history for future generations, and be a witness to your joy.  Photography is the timeless universal language that speaks to the heart.

Photography is particularly powerful because it is accessible to humanity; there are no language barriers in photography.

Passion drives me to create new and interesting perspectives on my subjects.  When I feel something as I am taking photos, I try to capture that feeling.  Why is that important?  Because I want people to notice my photos, to feel a connection to them.  The best photos communicate both visual ideas and feelings; we are moved by them.

I do my best work when I am totally present, totally in the zone; looking with wonder at a beautiful bride, or some flower petals fallen on the ground.  It is ideal to be immersed; to absorb myself in the beauty, the peace, the craziness, and the sheer glamour of the people around me.

My name is Bandi Szakony and I look forward to sharing the beauty of your wedding day through my photography.

THESE ARE SOME OF MY FRIENDS

Amazing Organizations - Fantastic People